Greenpoint is a platform of Setas products, which promotes responsible packaging and fiber solutions.  For us, being responsible means designing products considering recycling, lowering CO2 emission and lowering total water consumption.   
Setas Masterbatches are well known as Masterset brand in Europe in color and additive performance solutions for fibers and packaging. Global brand owners around the world rely on Masterset Masterbatches to enhance the product appeal  and the end-use performance of fibers and packaging products. 
Setas constantly develops its ability to find new scientific solutions and invests in high-tech and qualified human resources to contribute more and more growing enviromental concerns of today's World.
Setas Masterbatch is well equipped with both pilot plants to run trials before industrial offerings as well as analytical instruments for characterizations. For ex: Pilot polymerization, pilot spinning, pilot cast film line, pilot blown film line, pilot injection molding and pilot twin-screw extruders.
Setas R&D center has an accredited lab according to ISO 17025:2012 and conducts many certified tests. In addition, Setas has well equipped characterization capabilities such as LC MS, GC MS, HPLC, GC, FTIR, DSC, XRF, AA, contact angle, physical tests, surface characterization tests, UV weathering tests as XenonArc (Atlas Ci3000 and 150S+) and QUV.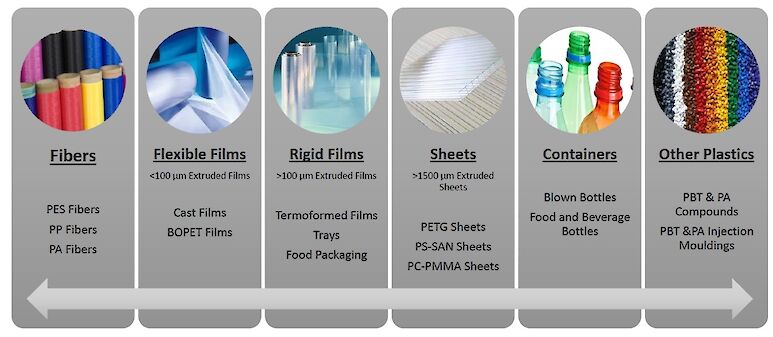 A Brief Visual Summary for the Setaş Masterbatch Markets