UV Stabilizers for BOPET
Setas offers high-performance UV stabilizers for BOPET films for outdoor applications.
Setas has an extensive technology center to test the outdoor performance of final articles. Setas has Atlas 3000+, Atlas 150s and QUV testing devices for outdoor performances.
Setas offers two different products for BOPET UV applications:

PES 1065 UV
PES 1034 UV

Setas cooperate with her partners to offer the right product and gives also performance testing services.
PES 1065 UV
Properties:
Prevents inks fading on the pack
Excellent weather durability and aging protection
Prevents UV light ray damages on the product
Applications:
Preserve the freshness, color and aesthetic appearance
Increases the shelf life of the food. For ex: meat, oil etc.
Protects inks against fading under UV light and allows the use of cost effective inks
Fiber and glass fiber reinforced packaging
Solar control films
PES 1034 UV
Properties:
Triazine based technology
Very high intrinsic viscosity level of the MB. IV is 1,0 dL/gr (excluding the additive content)
High absorption of UV radiation
Excellent weather durability and aging protection
Prevents UV light damages on the product
Applications:
Outdoor technical applications
PV panels
Solar control films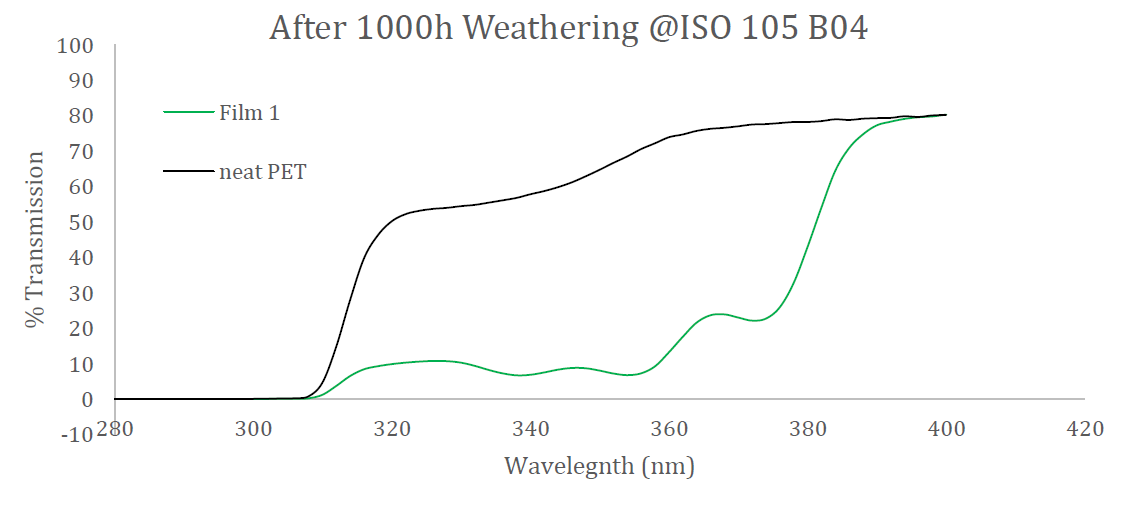 % Transmission curves of the films after 1000 hours weathering (between 280-400 nm)
Films are 12 micron and Film 1 contains 5 wt% PES 1065 UV
(Data measured with Shimadzu UV 3600 Spectrophotometer )
BOPET Films after 1000 hours of testing ISO 105 B04  (ATLAS Ci3000)
| | |
| --- | --- |
| PET film produced with PES 1065 UV | PET without additive |