BOPET Matting Additive
PES 1297 MA is a matting additive designed for BOPET matting applications.
The typical dosing rate of the PES 1297 MA is between 10-15 wt % in external layers.
The mat appearance varies with the layer thickness and % dosing.
PES 1297 MA has a very homogeneous dispersion and has a minimum effect on filter pressures during extrusion.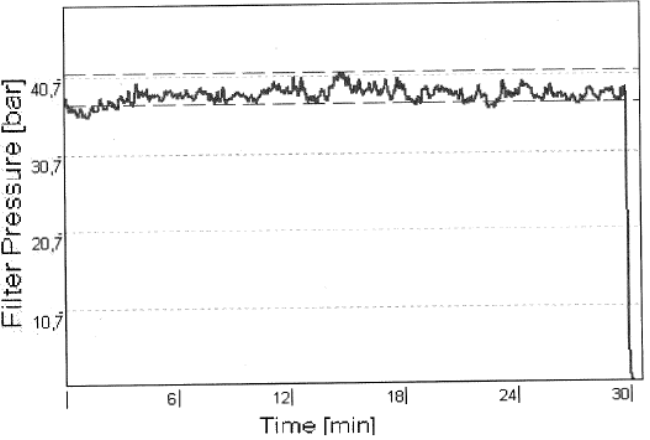 Accelerated Filter Pressure Curve for PES 1297 MA (14 mic filter)
Physical and Optical Film Properties of PES 1297 Masterbatches
Following film properties should be expected by dosing % 10 from  PES 1297 in External Layers :
SÜRTÜNME KATSAYISI
(COEFFICIENT OF FRICTION)
ASTM D 1894
F/Film
TT
0,34
TN
0,39
NN
0,33
F/Metal
TM
0,28
NM
0,21
HAZE (ASTM D1003)
%
45,7
PARLAKLIK
(GLOSS, 45º)
ASTM D 2457
T (bright)
98
N (mat)
56
IŞIK GEÇİRGENLİĞİ
(LIGHT TRANSMITTANCE)
ASTM D 1746
%
81,5
OPAKLIK
(OPACITY)
DIN 53146
%
17,4
YÜZEY GERİLİMİ
(SURFACE TENSION)
ASTM D 2578
T
40 dyn/cm
N
40 dyn/cm
KALINLIK
(THICKNESS)
ASTM D 374
12,2 mic
YOĞUNLUK
(DENSITY)
ASTM D 1505
1,35 gr/cm³
VERİM
(YIELD)
ASTM D 4321
60,72 m²/kg
GERİLME DİRENCİ
(TENSILE STRENGTH)
ASTM D 2578
MD
146 N/mm²
TD
226 N/mm²
KOPMADA UZAMA
(ELONGATION AT BREAK)
ASTM D 882
MD
121%
TD
88%
ELASTİK MODÜL
(ELASTIC MODULUS)
ASTM D 882
MD
3264 N/mm²
TD
3026 N/mm²
ISIL ÇEKME
(THERMAL SHRINKAGE)
ASTM D 2732
%
MD
1
TD
0,5